Tattoo is a form of art. Some are into getting their skin permanently drawn with their chosen design and brave enough to endure the pain of getting a permanent tattoo while some would never even dare to get even a tiny design, either they are afraid of the pain or they have low pain tolerance, or they are just not into it at all. Although some are not really into getting permanent tattoos but actually admire that form of art. No doubt getting inked is becoming a trend nowadays, from common civilians to even Hollywood celebrities. There's actually a solution for women who admire tattoo art to get into this tattoo trend– through tattoo printed clothing.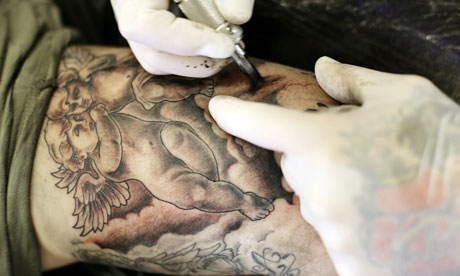 Tattoo being one of the adorned forms of art is now available as prints on clothing pieces. Tattoo prints are available for tops and even bottoms. A new trend is even rising into the tattoo print industry of fashion; printed pantyhose or stockings are becoming trendy. These printed pantyhose or stockings when used make it look like one has a real tattoo printed on their legs. It is really artistic and it is yet again a great stylish innovation from the fashion industry. It can really fool others into thinking you have real tattoos.

But aside from that, tattoo printed clothing are really attractive too. Now every woman can get to wear tattoos, not just permanently inked on their skin but removable, "washable" and can be worn multiple times. Most of these tattoo print clothing are for casual wear. Tattoo designs are usually printed on casual tops and casual bottoms. It will actually depend on the wearer how to amplify the effects of tattoo printed clothes. One can wear a motorcycle jacket over tattoo printed top for a cooler spiced up look. Or one can pair the tattoo printed top with a leather skater skirt for a touch of femininity to the ensemble. Accessories may be used at a minimum level because these tattoo prints are already really eye-catchers. One can opt to go into with the accessorizing part through bags, shoes or even hats.
Tattoo printed pants on the other hand can be worn with a plain top or have fun and mix it with other prints. There are also tattoo printed dresses, but still more on the casual side. While there are also tattoo print dresses appropriate for parties, just be careful in choosing and wearing the right style. For example, the sleeved tattoo printed dress on the left is a casual cut and style, and the tattoo printed dress on the right is more appropriate as a party dress.
Whatever tattoo print you choose, consider the style of the clothing piece you are choosing, which will be the deciding factor for whatever look you can achieve it with. Visit DHstyles to check out the Tattoo Print Collection for tattoo printed clothes and accessories.