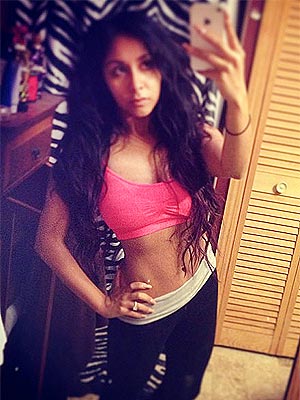 Each of us has one or a few celebrities we look up to when it comes to fashion and style. If Nicole Polizzi, popularly known as Jersey Shore's Snooki, is your personal favorite, then you're in for a massive fashion treat! Have you been dreaming of looking sexy and stunning like Snooki? Have you always admired her sexy choices in outfits? What if we tell you that you can actually get the exact same outfits Snooki is wearing? Yes, you read that right- the exact same outfits – Snooki's personal choice in fashionable clothing.
We are proud to say that the sexy, witty and fun Nicole "Snooki" Polizzi is one of our avid customers. She surely got attracted with the sexy clothes DHstyes has to offer. You see, not all celebrities are into designer branded clothes all the time. There are some, like Snooki who loves bargains! DHstyles is one of her favorite online shops because we offer high quality fashionable clothes at very affordable prices.
See how sexy Snooki now looks after giving birth to her first child. You will notice that most of her personal choices are tight fitting dresses. She chose these body hugging dresses because it will definitely highlight her sexy curves. Tight fitting dresses like Snooki's choices are perfect for body types with an hour glass figure and defined waists because the dress will show and emphasize the curvy figure. Bodycon dresses are great club wear dresses because these are so stunning and sexy. Look sexy and stunning just like Snooki in our wide choices of body hugging club wear dresses too. If you don't have the hour glass figure, don't fret just about yet. Snooki also chose loose fitting dresses like this Royal Black Gauzy Georgete Cross Stitch Party Dress with an empire cut style. This cut fits perfectly well with just about any body type and even great for plus sized women too. It will conceal the body figure and give emphasis on the chest area. You can wear this dress to a dinner date or a family reunion.
Snooki is the ultimate party girl that knows how to dress according to the occasion. You can get to dress up inspired by Snooki even to the corporate world. Aside from her choices in club dresses and party dresses, she also picked a few tops and dresses worthy as office wear. Dresses like Teal Coffee Sexy Sleeveless Career Wear Dress can be worn to the office and you will definitely look professional without sacrificing your stylish taste in fashion. Snooki sometimes goes casual and so can you. If Snooki can tone down a bit in fashion without slacking in the latest trends, you too can do and wear just the same with these trendy printed skinny pants like her personal choices. Snooki chose these trendy animal print skinny pants to go casual but still be in trend with the prints. Add a newsboy cap for an added touch of coolness just like Snooki's choice.
Check out all the items she purchased and go crazy over Snooki's personal choices of tops, dresses and accessories from DHstyles!