Fashion runways have just kept on overflowing with sheer clothing. This sheer clothing trend is not only for the spring and summer seasons but is also unbelievably trendy for fall. Would you believe that almost see-through clothing can be actually worn for fall? There's no reason to be intimidated with sheer clothing because it can make you look fashionable by showing a hint of skin. Sheer is not all about being totally bare; it can be as subtle or as daring as you desire it to be. We have previously discussed how to wear sheer pants regardless of the season. It's about time we discuss how we can pull off sheer clothing for the season of fall. I've summed up a few tips from style experts as to how we can wear sheer clothing this fall.
Before anything else, the general rule in pulling of sheer clothing is to layer. But note that this is not an exclusive rule to the sheer trend. You may or may not layer, depending on your taste and preference. But layering is the best solution to pulling it off from day to night.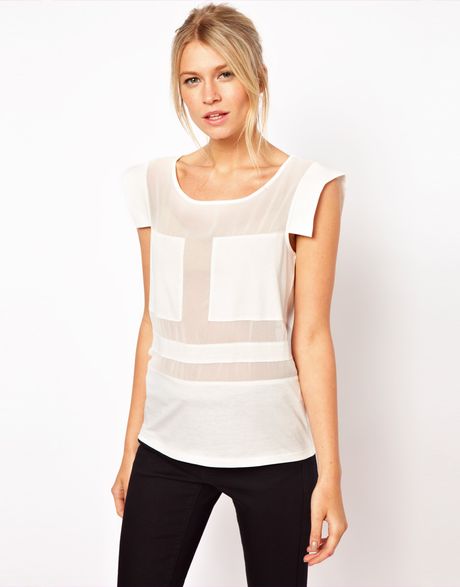 First tip from style experts is to use paneled sheer top to give a hint of skin without overdoing it. This is great to wear even to the office. You can be sexy, trendy, subtly daring without breaking the company policies. You can do some layering by adding a blazer on top of it, to look as smart as you should be for a corporate environment.
Next, a long sleeved sheer pullover or a sheer maxi skirt is best options for coverage with a right amount of subtlety. Pair it with a printed bottom or a printed top for some excitement and fashion statement. You can pull this look off for some casual after hours. It's a nice outfit for a casual weekend out with friends or just some alone time at the mall.
Lastly, you can also wear sheer clothing as evening wear. A sheer dress is a great option for a subtle yet sexy look. An example is a dark sheer dress, or better yet a black one. It's a great variation to your average little black dress. It is wearable, easy to layer up with and easy to accessorize on to. It shouts sophistication and subtle daring look. You can wear this look for a romantic date night with the hubby or the boyfriend.
In wearing sheer clothing to whatever occasion, may it be during summer or fall, we should all be reminded of the most important factor: to wear the right set of undergarments with these sheer clothing. Wearing the right set of undergarments will not only make you look sexy with sheer clothing, it will make you look very classy even to the eyes of the beholder. Aside from the right set of undergarments, it should also be the right size. You wouldn't want to ruin your look by showing off bulges which you normally do not possess with the right size of undergarments. Do not forget to balance things out, keep combining opaque clothing with sheer clothing for a great balance.