Satin fabric as we all know has a glossy surface and dull on the other side. This type of fabric was made purely of silk during the middle ages, which makes it extremely expensive and only used by people of higher class. Satin fabric is commonly used in apparel even up to this date. However today, satin may be formed by a mixture of different materials like nylon and polyester, aside from silk. It is readily available and anyone can use it.
Wearing a satin can be a bit tricky and needs utmost styling decision. Unfortunately, satin is not for everyone. It is not for everyone because of its glossy nature; this glossy nature can actually add volume to the wearer. Women with curves who want to wear satin must know the risk of wearing a satin made outfit: the effect of an added volume. Skinny women will have no problem with it because they will benefit from the volume satin gives; adding shape and curves to their body. Another thing that makes wearing satin a bit tricky is the way to pull it off. Like I previously said, utmost knowledge in styling is needed so as not to make it look like you are wearing a sleepwear. Satin is common with sleep wear and undergarments too, so we have to be careful not to look like we're heading to the bedroom.
Despite its trickiness, satin clothing for women can absolutely be worn in a lot of stylish ways. Satin being a glossy fabric can undoubtedly be perfect to wear to a formal occasion. Countless of gowns are made of satin. But if you want to look unique and stand out from the usual satin gown-wearing crowd, why not opt for a satin maxi to get the same formal and elegant effect of a satin gown.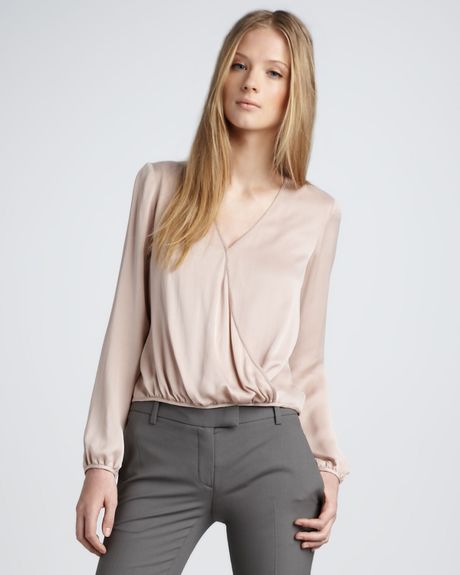 Also, do not be afraid to wear anything satin to the office. A touch of satin through a satin top for example, instantly adds class and sophistication to an outfit. Play with textures and go for contrast in your outfit to the office; wear a satin top and put over it a tweed or wool coat for the best corporate look.
Lastly, you can never go wrong with a satin for a night out with friends or a date night. You can still don a not-so-formal look with a satin outfit by pairing it with something that has a casual touch to it. Like a satin jacket motorcycle jacket can be paired with a skirt for a touch of daintiness. There are a number of occasion appropriate satin clothes, so make sure to choose the best one. Always remember to mix and match colors and textures with satin. Plus the nature of satin does not require too much accessories because it is attractive on its own. Make a statement by grabbing a piece of satin now!