Tunic tops can really be a life saver – in term of fashion that is. There will always be a time when we women want to just take a slack even in dressing up. There will always be that certain day where we want to wear the ultimate comfortable blouse and we find it by loose fitting tunic tops. Unfortunately, some may think tunic tops is one bad fashion statement. Why? Because of how tunic tops can look when worn. Being a loose fit top or oversized for that matter, it can be really shapeless and tent-like in appearance. Some may consider it to look baggy and lousy. It may even seem like a maternity wear for some because of its design. No doubt this is a great and stylish option for pregnant women, but tunic tops are not limited to them. This thinking has to be stopped. Let's allow tunic tops to prove its fashion statement for all women. For women who do not appreciate wearing even a single tunic in their lifetime, know that tunics can work wonders on your body. Here are a few tips on how to wear a tunic top for different body types. Perhaps these tips may make you change your mind.
For women who have a bit of bulging tummy, choose a tunic to conceal this area. The best cut of tunic tops that will give this effect are the empire cuts or those with elastic bands that sits on the hips. Avoid tunics that have an embellishment on the midsection for it will only attract attention to that area. A pocket as embellishment on the midsection is an example of things to avoid in tunic tops.
For women who have fuller hips and thighs and would really want to balance the body shape out then a tunic top is the answer. Choose a tunic top with an A-line style to that will slide along the hips. An asymmetrical hem tunic top is also a great choice so it will not fall straight across the widest part of the thighs. You can also choose a tunic top made of soft fabric so it would not up a bulk to the body.
Women in an hourglass shape can flatter their figure with a tunic top as well. All you have to do is choose a nicely tailored cut tunic top that will skim over your curves. This type of tunic will not conceal the curves you are proud of. Play around with different necklines to spice things up a bit too.
And lastly, for women with a straight figure, choosing a tunic top with three-dimensional embellishments will help with your figure. Some ruffles or gemstones embellishments are some examples that will actually enhance the bust or the hips and give depth. You can also try a draping fabric like jersey fabric which will create the illusion of a curvier figure. A cinched waist will also add curves to this type of body figure.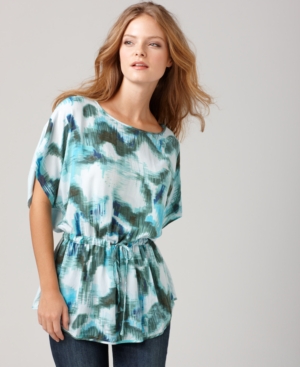 Now that you know some tips to wear a tunic top, why not go grab one at DHstyles and try it and see the flattering effects for yourself!