Empire cut tops and dresses are undoubtedly very flattering to a woman's body. Luckily, most body shapes can wear this type of clothing style. The Empire cut style has also been in the fashion industry for quite a long time. The period of the empire waist was the end of the very tight fitting corsets and dresses and the end of the wasp-waist era. During those times, specifically during 1795 to 1820, women of different classes were able to wear comfortable and not burdensome dresses and to still be considered decent and fashionable. If you are still wondering what Empire waist clothing looks like, well we are here to shed some light about this fashion style.
Empire waist tops and dresses are clothing pieces which has high cut waist seam will falls directly below the woman's breasts and the rest falls loosely downward. Yes, the seam is above the waistline and not directly on the waist. This style is a very flattering style to all body shapes because empire waist cut of tops and dresses does not necessarily require a well defined waist. It is to no surprise that this cut is even flattering to plus sized women and rectangular body shaped women.
You can choose an empire waist dress with an A-line skirt for a more attractive and comfortable look as the skirt will flow around your curves. If you are not so pleased with the lower part of your body then this style is the perfect choice for you. The attention that the empire waist will get, actually directs it to the upper body. However, if you want to emphasize your hips even more, you can choose a fitting skirt of an empire waist dress to show off that naturally sexy figure. Empire waist tops also has a number of benefits. Choosing a top with this style actually has a concealing effect. It will help hide your unwanted belly fat or your undefined body waist. An empire waist top can also help emphasize your hips: with the right length and material, it can fall directly leveling your hips for that much appreciated boosting effect.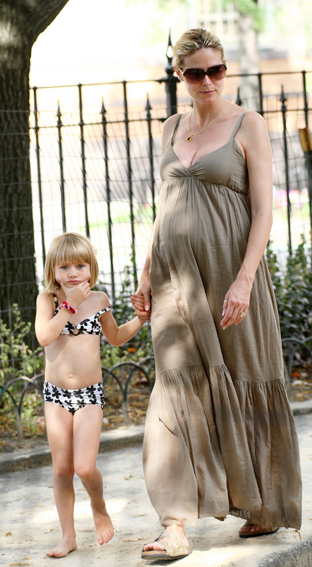 Amazingly, empire cut tops and dresses can also be your fashionable maternity wear. It is a great choice for maternity outfit because no seam will ever be a hindrance to your growing tummy. As mentioned, the waist seam is just below the breast so your tummy will be free to breathe and grow. However, choose an empire waist top or dress that has a suitable option for adjustment. Not all empire waist top or dress will be easy to wear for women with a growing belly, so choose a perfectly garterized empire waist or one with a side or back zipper for ease of wearing. Check and see if the stretch capacity of the garter empire waist can actually be of ease to a pregnant woman. See how Heidi Klum chose to wear an empire cut maxi dress as her maternity wear. You too can look as gorgeous as Heidi Klum!
Add a worthy Empire waist clothing piece to your wardrobe and see the effect this style has to offer. Delay no further in visiting DHstyles for a wide selection of affordable and trendy outfits!